【W.S.】Intensive workshops with Dorian Bash.

【W.S.】Intensive workshops with Dorian Bash.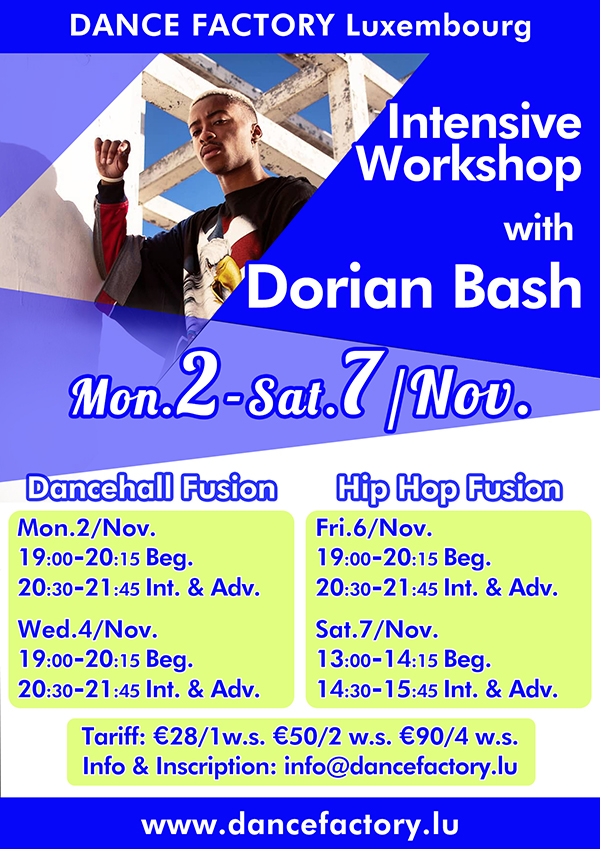 About Dorian:
Dorian Bashonga ( instagram: Dorian.bash), j'ai 23 ans et je suis danseur, chorégraphe et modèle. Danseur hip-hop ( freestyle et chorée) depuis tout petit, j'ai pu participer a plusieurs battles, des créations chorégraphique, des clips pour des artistes comme Roméo Elvis, SBMG etc…
Je me suis perfectionner dans la danse en faisant la formation " BORN TO DANCEHALL " crée par Jow Coute et Chaï deux pionniers du Dancehall en France. Maintenant que je suis revenu vivre en Belgique plus précisément à Arlon, j'aimerai faire partager tout ce que j'ai pu apprendre pendant ses deux ans dans le Sud, partager ma passion, pouvoir profiter de mes relation en creant des workshop avec de grands danseurs et proposer mes cours Hip Hop Fusion qui amènera un autre style qui mélange deux styles très populaires qui est le Hip Hop et le Dancehall.